Manitoba's 2008 Woman Entrepreneur of the Year started what would become a successful international marketing company 13 years ago on a laptop computer plugged into the cigarette lighter of her rusty Ford Pinto.
Elizabeth Gage, a Winnipegger and former Stratford Festival of Canada actor with degrees from Queen's and the MIT-Sloan School of Management, was huddled in her yellow hatchback on a -30 C day on the outskirts of Saskatoon about to sell her first ad design for a Yellow Pages customer.
From that humble beginning, Gage's company, Prairie Choice Marketing -- now PCM International -- has become a leading advertising and marketing agency that represents 200 Yellow Pages publishers across North America.
Her rapidly expanding company, with offices in Winnipeg, Vancouver and Toronto, is projecting $50 million in annual sales within the next three years.
Gage was honoured at a gala, attended by up to 500 people, at the Winnipeg Convention Centre Thursday evening.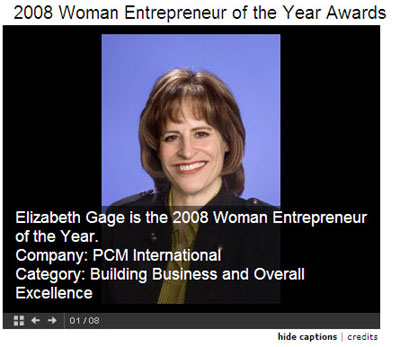 The Woman Entrepreneur of the Year awards, inaugurated in 1992, are hosted by the Women Business Owners of Manitoba, a non-profit, independent organization that promotes female entrepreneurs.
In addition to being honoured for overall excellence, Gage also won the award in the Building Business category.
Seven other awards were presented Thursday night, including a Lifetime Achievement award to longtime Teulon realtor Claudette Griffin, owner of L.J Baron Realty.
Elizabeth Gage
Company: PCM International
Category: Building Business and Overall Excellence
Gage, a certified marketing representative, started her marketing and consulting company in 1995. Her company specializes in national Yellow Pages advertising, Internet marketing and market research.
The Winnipeg-based company, which employs 11, now also has offices in Vancouver and Toronto, with new offices planned for Montreal and Calgary. Revenues last year totalled $4.2 million.
Michèle Lécuyer-Hutton
Company: Acces Direct Promotions
Category: Home Enterprise
Lécuyer-Hutton operates a promotional products business from her Windsor Park home. She supplies products ranging from pens, mugs, desk clocks and watches to jackets and mouse pads for businesses and other organizations to increase their visibility and to use for fundraisers or at conventions. While her seven-year-old company focuses on Manitoba's francophone community, she also has clients in Saskatchewan, Alberta, Ontario and Nunavut. Lécuyer-Hutton also has one-person satellite offices in St. George and St. Pierre.
Lewena Bayer
Company: The Civility Group Inc.
Category: International Trade
Bayer is a leading Canadian expert on civility in the workplace and courteous communications. She co-founded The Civility Group in 1999, providing workshops and training programs for professionals, business people and ordinary citizens on civility and cross-cultural communication. The company has nine affiliate offices in Canada, six in the United States and six others scattered around the world. The professional speaker and author also writes a national column for Canadian Living magazine.
Kristina Poturica
Company: Rituals in Hair and Skin
Category: Emerging Business
Poturica, with 24 years' experience in hairdressing, opened her Pembina Highway salon five years ago and today employs 11 full-time staff who service close to 3,200 clients. She also offers a Manitoba-made Rituals line of skin and body products, Canadian-made jewelry and handbags and Manitoba-made greeting cards. Company sales in 2006-07 topped $500,000. Poturica has been president of the Manitoba Hairstylists' Association, a gold medal judge for hair competitions and a government examiner for the province of Manitoba.
Nadine Coubrough
Company: VERICO One Link Mortgage & Financial
Category: Impact on Local Economy
Coubrough saw opportunity in two colliding trends: diminishing consumer loyalty for lending institutions and increasing use of the Internet as the place for deals on credit services. In 2002, she launched VERICO from her dining room table. It is now Manitoba's largest independent mortgage brokerage, with 50 mortgage professionals and two offices in Winnipeg and one in each of Brandon, Steinbach and Winkler. In 2007, her company received the Consumer's Choice Award and the AMP Corporate Excellence Award by the Canadian Association of Accredited Mortgage Professionals.
Tara Potter
Company: Thompson Water Factory Ltd.
Category: Contribution to Community
Potter launched her purified bottled water company in Thompson in 2005, with Inco as her first customer. The five-employee company has outstripped growth projections of 24 per cent annually. It donates two cents per returned bottle to local charities, sponsors aboriginal radio programing, supplies teachers with resource packages with water-related facts and purification experiments for students to conduct. Potter has been a board member of the Thompson Chamber of Commerce, is a founding member of the Aboriginal Chamber of Commerce and helped organize the first Northern Spirited Women conference.
Karen McMechan
Company: Karen's Fashions
Category: Excellence in Service
McMechan opened her first store in Melita in 1997 and soon found her niche, offering the largest selection of dresses in southwestern Manitoba. In 2004, she opened a second location in Deloraine. McMechan employs a staff of 12, and her businesses are a big drawing card for the two southwestern Manitoba towns.
Claudette Griffin
Company: L.J. Baron Realty
Category: Lifetime Achievement
Griffin, a lifelong resident of Teulon, is owner of the realty business that has been in her family for 55 years, selling the Interlake "one yard at a time." Griffin leads a team of six sales associates. In the 25 years she's been involved in the business, the company has blossomed, enjoying 12-15 per cent annual growth. Since 1996, Griffin has been recognized annually by WinnipegREALTORS for outstanding sales achievement.
larry.kusch@freepress.mb.ca