PCMI Services
PCM International Scores Big at Yellow Pages Association Global Conference
Wins bronze in industry excellence awards for sales innovation/Featured at gala dinner/Garners feature story in Advertising Age magazine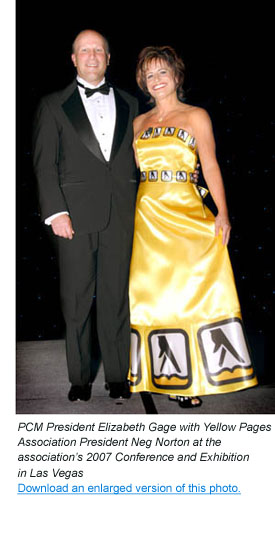 Winnipeg - May 9, 2007
- Winnipeg-based PCM International won a bronze in the Industry Excellence Awards at the Yellow Pages Association 2007 Conference and Exhibition in Las Vegas. The award was for sales innovation for an innovative, client-trade-show marketing strategy developed by company President, Elizabeth Gage.

Besides Yellow Pages Group from Montreal, PCM was the only other Canadian award winner in the competition. PCM was competing with U.S.-based industry giants like TMP Directional Advertising, which has $500 million in annual billings.
"We're honoured and thrilled to receive this recognition, considering the very tough competition we faced," Gage said.
PCM was also a high-profile participant at the conference that hosted 600 delegates representing 250 publishers and certified marketing representatives from around the world involved in the $26-billion global Yellow Pages directory marketing industry.
Gage's flamboyant, brand-focused approach to demonstrating the value of Yellow Pages advertising involved creating what she calls "marketing-theatre" that included developing a Yellow Pages-branded gown trimmed with the walking fingers logos. In the bright-yellow gown, she became an instantly recognizable living brand to demonstrate her marketing point that not only is Yellow Pages an excellent advertising medium, but to have maximum impact, it is important to stand out among the crowd of competitors.
Her excellence-award application attracted the attention of Yellow Pages Association conference organizers who asked Gage to participate in the April 29 to May 1 convention to add colour and brand message to the event.
To create impact for the event, she created a complete custom PCM team wardrobe. In addition to the Walking Fingers yellow gown she also wore a white business suit promoting the White Pages and a black business suit promoting the Yellow Pages brand, right down to custom shoes and handbags. Male members of the team wore yellow neckties with the walking fingers logo and black business suits.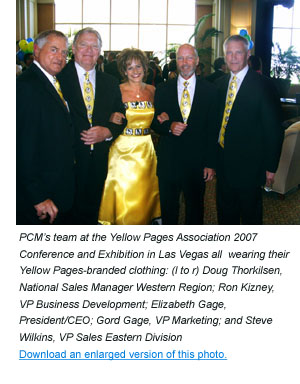 Gage was featured at the convention's opening reception and trade show and at the women's networking reception. PCM's company team led guests into the conference's gala dinner where Gage and an Elvis impersonator, who she located through the Las Vegas Yellow Pages, performed a theatrical skit about the value of Yellow Pages.
"We accomplished what we set out to do, which was to leverage awareness for our company in a competitive market and convince our colleagues that outside-the-box marketing can have real impact," Gage said.
Advertising Age journalist Ken Wheaton, whose story about Gage with photo appeared in the May 7 print and online editions of Advertising Age, the leading advertising industry publication distributed worldwide, asked Yellow Pages Association President Neg Norton about Gage. He said the industry attracts "professionals who appreciate tradition and advertising flair."